Podcast: Play in new window | Download
Subscribe: Apple Podcasts | Android | RSS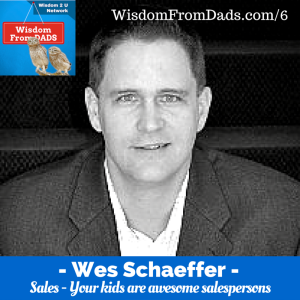 Wes Schaeffer is The Sales Whisperer®, a sales and marketing industry leader whose team educates and trains clients on sales and marketing automation, social media marketing, CRM, SEO, SEM, and at least 47 other acronyms. (That rhymes, by the way.) He is a motivational speaker and author, the latest titled "It Takes More than a Big Smile, a Good Idea & a Twitter Account to Build a Business that Lasts."
Wes was raised in Baton Rouge, LA and Houston, TX, and will always be a Southerner at heart. He is a graduate of the United States Air Force Academy and Texas A&M but he has never let formal schooling get in the way of his education. He is the father of seven children, all with the same wife of 19+ years.
TWEET-ABLE Button (you can still customize!):



"Who'd have thought kids were so awesome at sales!"
Wisdom From Dads – A new perspective on wisdom and stories to share with our families.